100 Days of Hok Skiing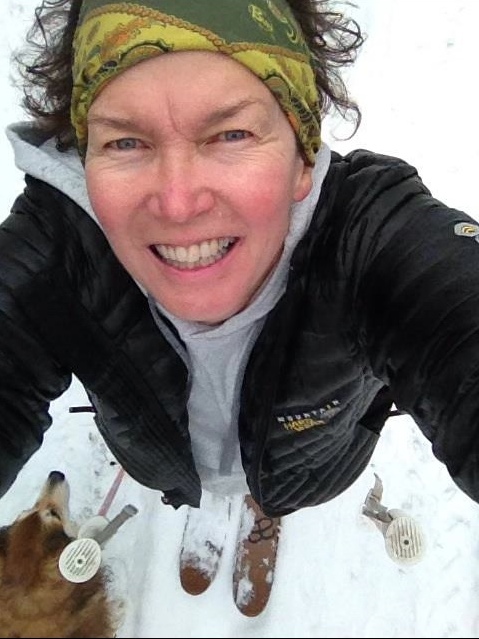 by Sharon Coyle
It was an almost impossible objective, even in a town north of the 50th parallel where the snow lasts until May: 100 Days of Hok skiing in one winter season. What the heck, if I didn't make it to one hundred, at least I would keep count and try to beat that number the next year.
I ordered my Hok Skis online from Altai Skis in October, and in spite of living in a relatively remote region where even ordinary letters sometimes take a mysterious length of time to arrive, the trim box appeared at my door within a couple weeks. I learned about these short, wide skis when a friend at work lent me some to try. I liked the smooth movement, it was easier on the knees than snowshoes, and with a dog to be walked and endless forest riddled with paths just outside my backdoor, I was ready to strap my universal bindings over my Merrell snowshoe boots and go!
There is a groomed cross-country ski trail in our woods, but dogs are not welcomed, so I was happy to have the Hok skis because they made it easy to make my own path. Sometimes I followed the narrow trails where the snow had been packed down by snowshoes or snowmobiles. Sometimes I made my own path through the forest in deep powder until the dog got too exhausted from swimming in snow up to his chin; then we would return to follow the more solid snow paths.
I started the  skishoe season early, mid-November, and tried to get out most days. The great thing about the Hoks, is that you can use them almost anywhere, flat, hilly, a little snow, lots of snow, icy, powder, grainy, they work pretty much all the time. I used this great strategy I read in a book about drawing (Drawing on the Right Side of the Brain, by Betty Edwards), the author says that you should draw most days, and to say to yourself that you would just draw a little bit, maybe a few minutes, and then once you get started you would often feel good and keep going. This works for exercise, like taking walks, and so I used the same strategy for getting myself outside in the cold with the dog. Just go for a short one, maybe just as far as the main skidoo path that runs pretty close behind our house. Then I would get to the skidoo path and think, well, I'll just go a little further. And then the dog would be happy, and the air would smell good, and the snow would sparkle, and I would decide to go as far as the sand pit. I realized it was ridiculous to think I did not have time to go for a ski. Twenty minutes was definitely something I could find in my day, no matter how busy life was with three teenagers, teaching at the college, and my master's research to finish. And the truth is, I was more efficient at all those other things if I had my "Hok" in the forest.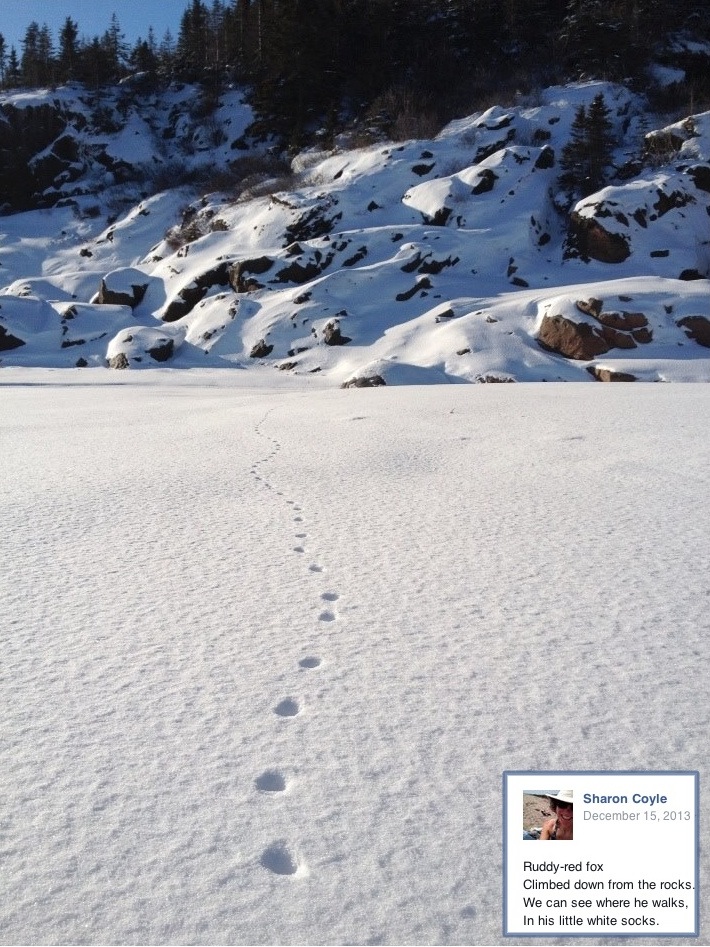 By Christmas I was already at about 20 days, but then, in January, a family trip to the beaches in El Salvador took a couple weeks out of my winter. Then with less than 24-hours turnaround I had to fly out again, this time to Ontario for two separate trips, first to see my mother who was dying of cancer, then for her funeral. It took me a while to get back to normal, but the dog needed exercise, and I found that a half-hour ski in the bracing winter air was as good for me as for him.  
On January 25th I had gone Hok skiing 25 days that winter; I was a quarter of the way to my goal of 100. On the shortest day of the year the sun barely clears the tops of the Black Spruce trees in the forest, and it sets by 3:30 in the afternoon, so even if you ski at around five, it feels like night skiing. By February 18th I was at 37 days. March 16th I made it to 55 days! I wrote this on Facebook: "Doubly Lucky! 55 days of skishoeing this season, about three metres of snow on the ground with more falling. I may get to my goal of 100 yet!" I posted a photo of my dog running down a snowshoe path in which my daughter combined two photos so the dog, named Lucky, appears twice. One of my Facebook friends commented: "That is such a demented goal."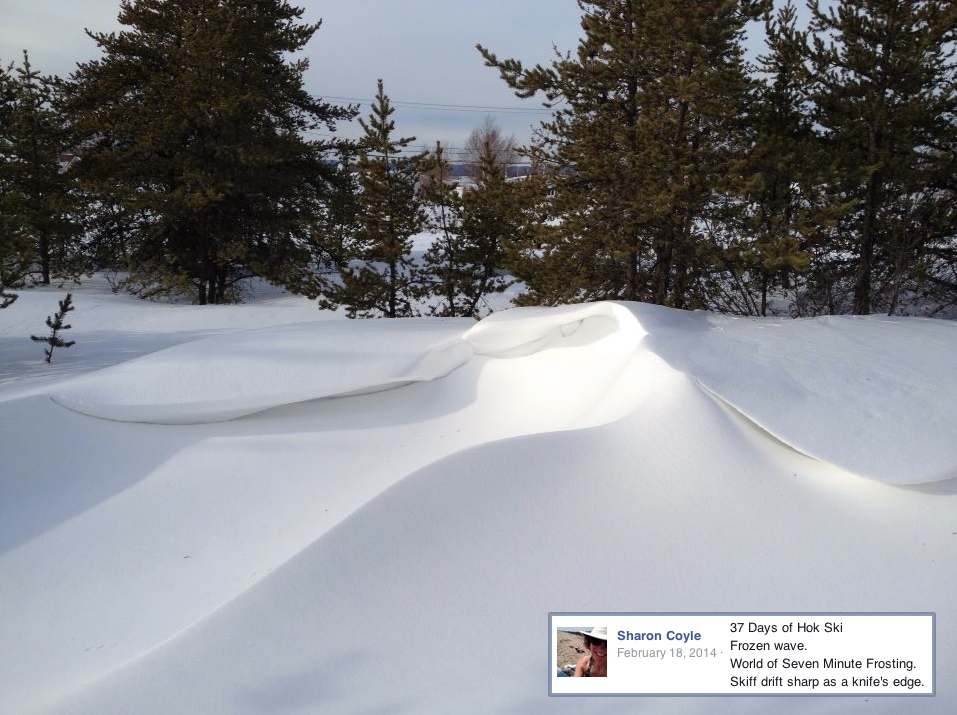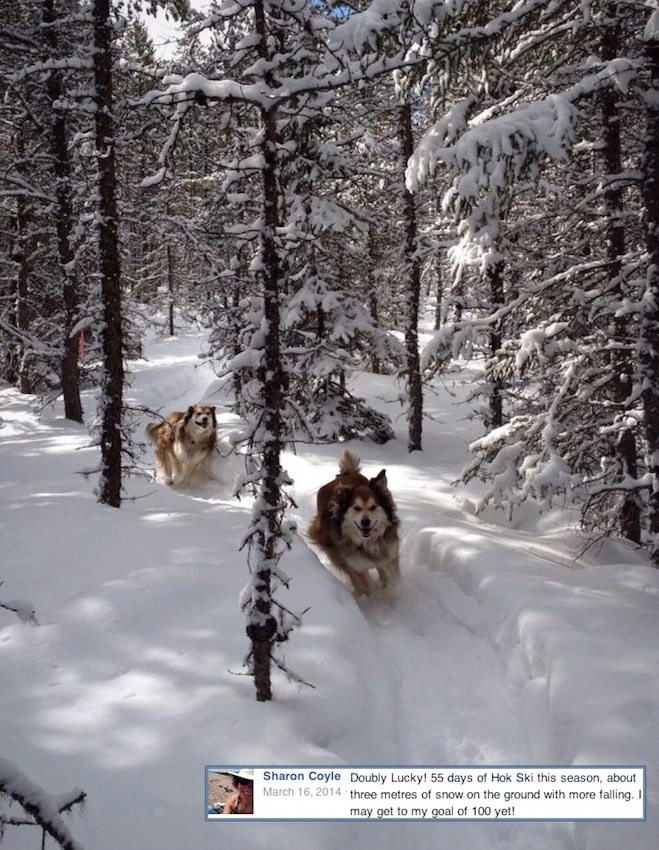 Most of the time I skied in the forest behind our house, but we have a cottage on the Saint Lawrence River about a half-hour out of town, so sometimes I would ski there along the snow-covered beach. By March 29th I had skied 64 days. April 4: "68 days of Hok ski! Sunny, warmish, still two metres of snow on the ground!"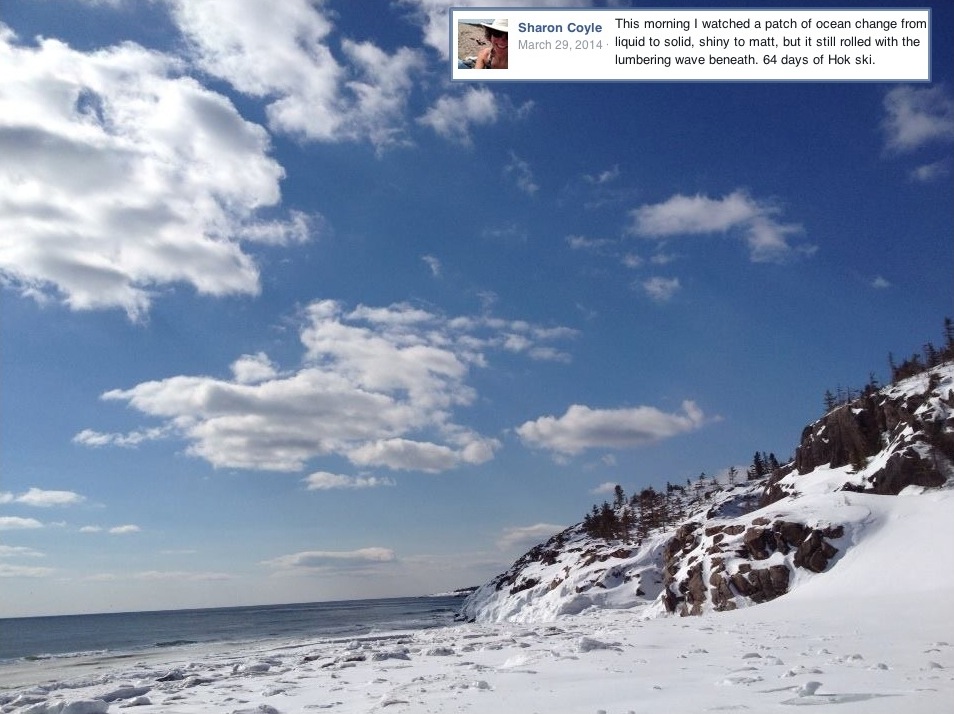 I have some osteoarthritis in my knees and over the last few years I was getting less and less mobile, but a diet change that eliminated a variety of foods which seem to provoke inflammation helped me get back in action, and the combination of eating healthier and skiing most days had me feeling great. Over the winter, with no intention of losing weight, I lost over 25 pounds. That also made skiing easier; kind of like unloading a 25-pound backpack!
So spring was coming and I was nowhere near my goal of 100 days of Hok ski, but I decided I would just keep skiing as long as there was snow, which in Sept-Îles, Québec is pretty long. Some days I went out twice, enjoying the longer daylight hours after those short winter days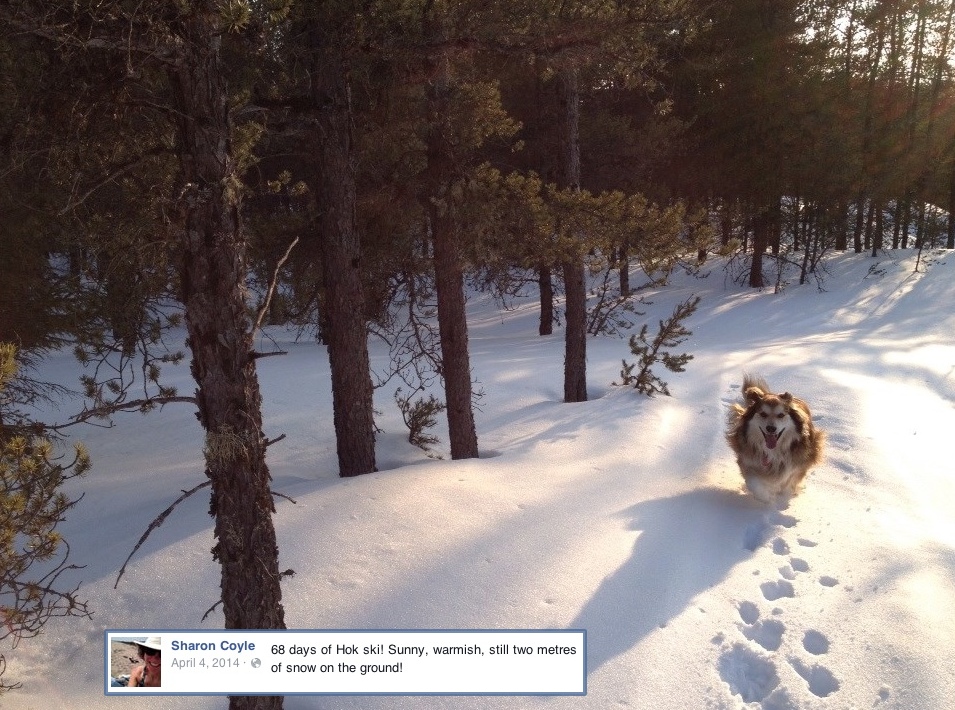 where the sun set at 3 in the afternoon. April 11: "Looking towards springtime. 71 days of Hok ski." I started taking photos almost every day because I thought each day would be my last Hok ski and I wanted to record the moment. I tried to capture the visual spectre of 15 feet of snow melting.  April 13, 73 days of Hok ski. April 16: "After two days of rain, blue sky! 74 days of Hok ski, but the snow is getting rotten. I took off my ski and my foot sunk up to my knee!" I even polled my Facebook friends to see if they knew which melted first, the snow around or between the trees. April 22: "The tree trunks are getting longer."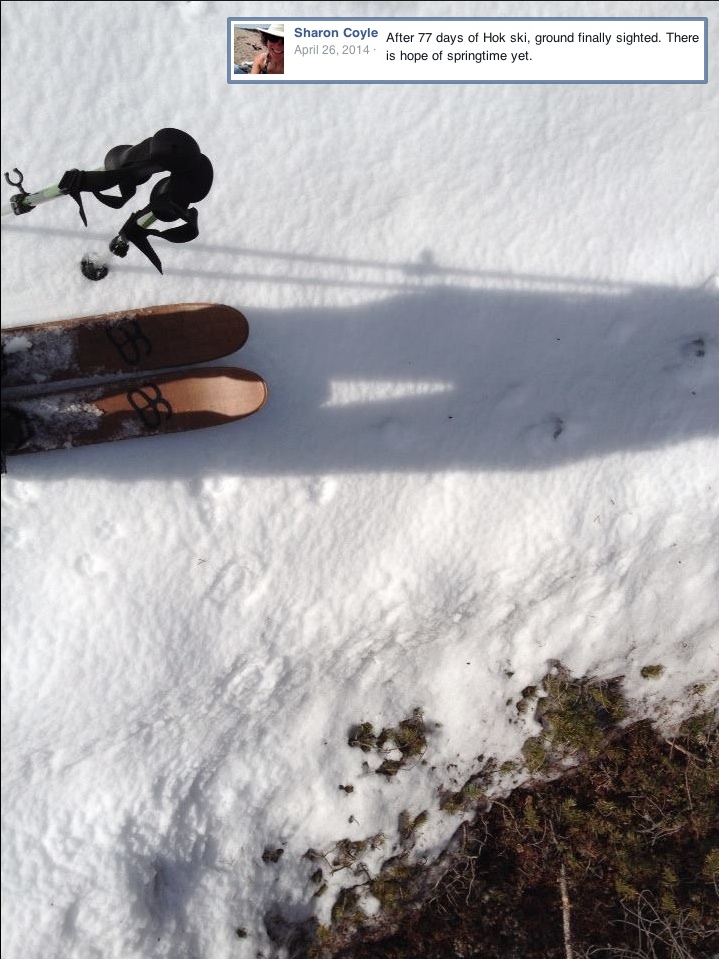 2014 was a big winter in Sept-Îles; each time we thought the season was coming to an end, we just kept getting more snow. It stayed cold at night, so even if we had sunny days to soften up the snow, the nights would freeze it solid once again. "Deck chairs and skis. April 25, about a foot more snow in the last two days. Very wet heavy snow. 76 days of Hok ski. I keep wondering which will be the last; it is hard to ski with 20 pounds of snow stuck to your feet!" I started skiing in the morning before work and in the evening or even at night if the moon was bright because it would light up the white forest like a magical place. April 26: "After 77 days of Hok ski, ground finally sighted. There is hope of springtime yet." April 27: "Smells like spring!"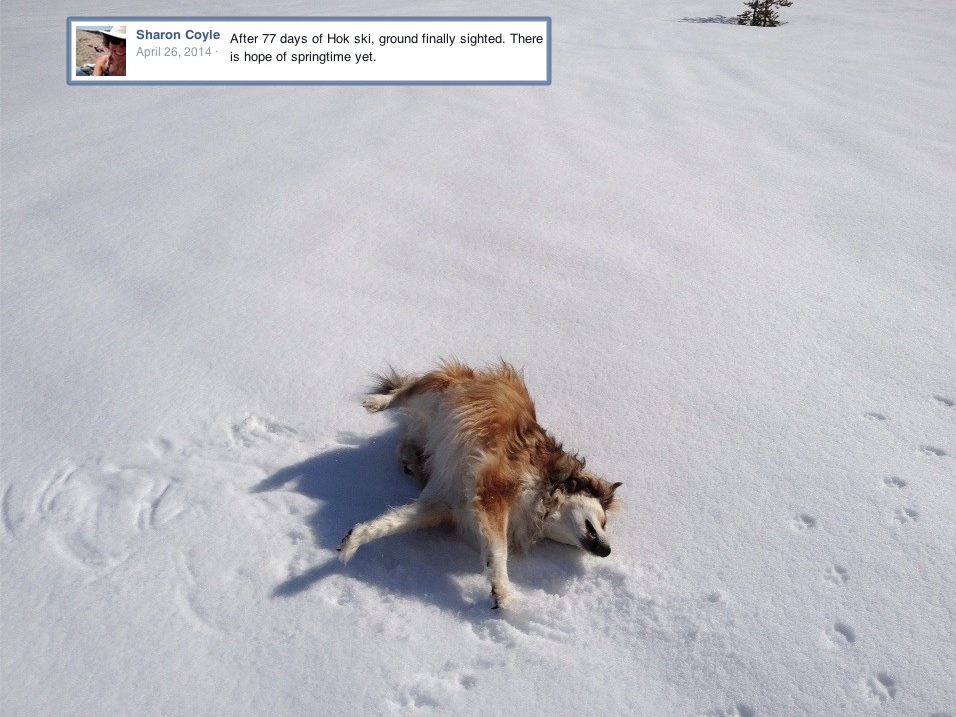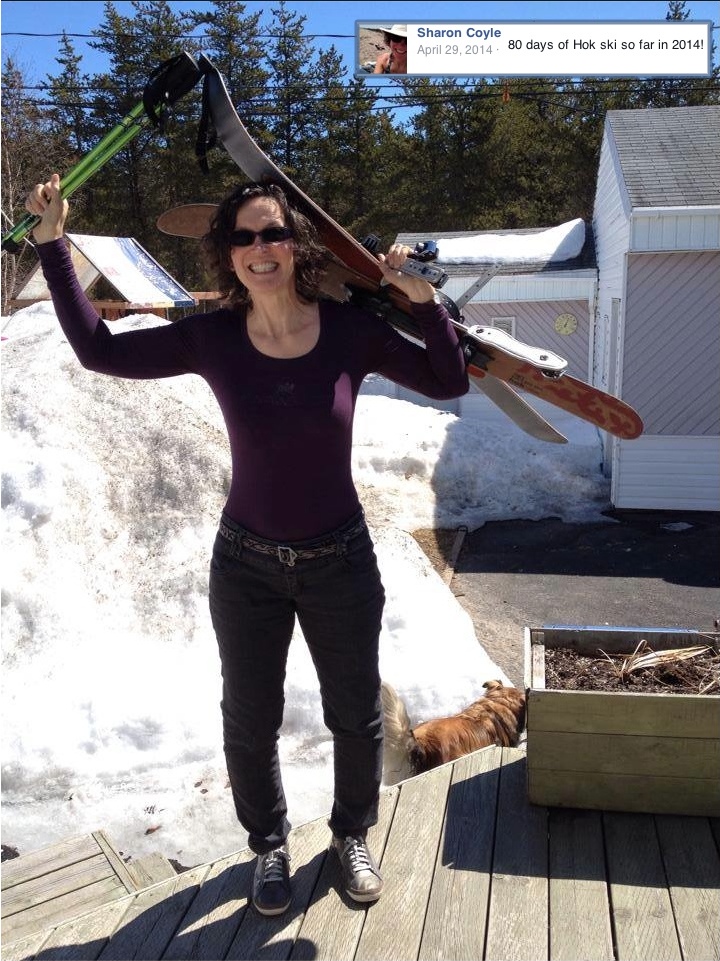 May came. The rest of the online world started posting photos of flowers blooming, but I was still posting my snowy ski shots, each time thinking it might be my last day of Hok ski for the season. A Facebook friend from Montreal begged me to please stop with the snow pictures, but I was so close. I think if I had not set myself that goal of 100 days, I would have stopped skiing much earlier. The rest of the world was gardening or getting on their bikes. "May the Fourth be with you. 85 days of Hok skiing."   May 6: 6 a.m.  "86 days of Hok ski, Snow so icy it was like skating with giant awkward dull skates on a super uneven rink. Not elegant." May 7: "Break out the Tilly! 88 days Hok ski!"  May 8: "14 Celsius today so night skiing. 89 days of Hok ski!" May 9: "90 days of Hok ski! There is still a lot of snow in the forest behind my house!"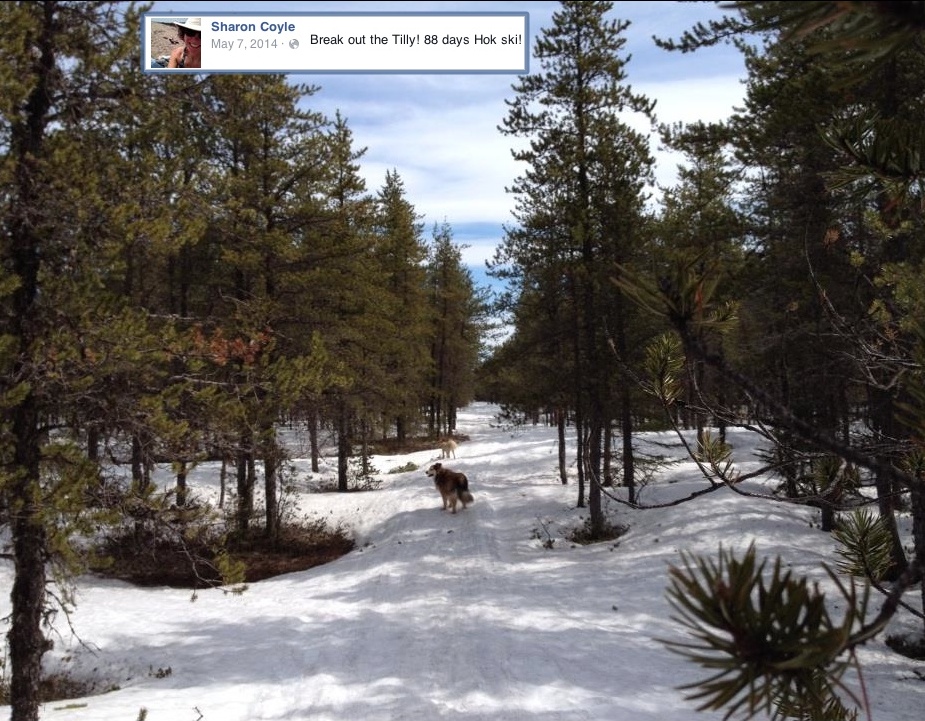 Was I going to get this close to 100 days of Hok ski, but not quite make my goal? Most of the snow was gone from the forest, but there were these crazy snow sidewalks, in most places a few feet thick, created from the packed down snow on the trails; thanks again to the snowmobilers. I would go out early in the morning to ski before the snow got too mushy.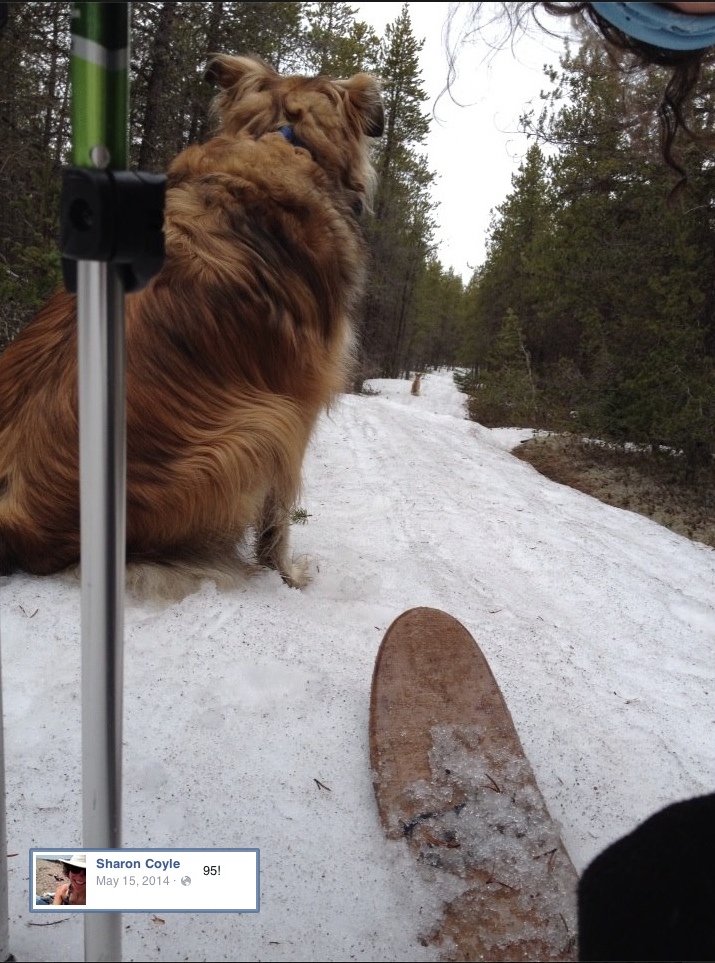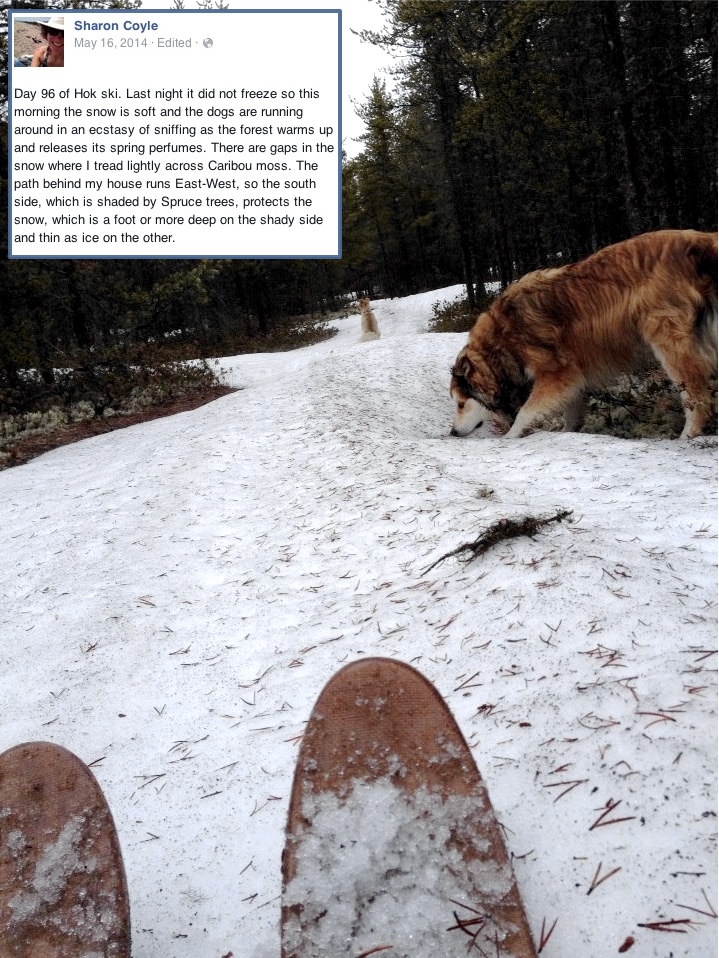 May 11: "Wahoo! Even after two days of rain, still enough snow to Hok ski! Mother's Day, 91 days." 92 days. 93. 94. 95. Day 96 of Hok ski: "Last night it did not freeze, so this morning the snow is soft and the dogs are running around in an ecstasy of sniffing as the forest warms up and releases its spring perfumes. There are gaps in the snow where I tread lightly across Caribou moss. The path behind my house runs East-West. The south side is shaded by Spruce trees and protects the snow, which is a foot or more deep on the shady side and thin ice on the other."
May 17: "97 days of Hok ski! But today was really warm and sunny, so that may be the last. I think today is the first time I wore a tank top to ski."
On May 18th I knew it was the last day. The temperature would not drop below freezing that night. I had to traverse sections of caribou moss to get from one patch of snow to the next, but I was still able to hike/ski for about an hour. That night it didn't freeze, and that was the end of the snow sidewalks.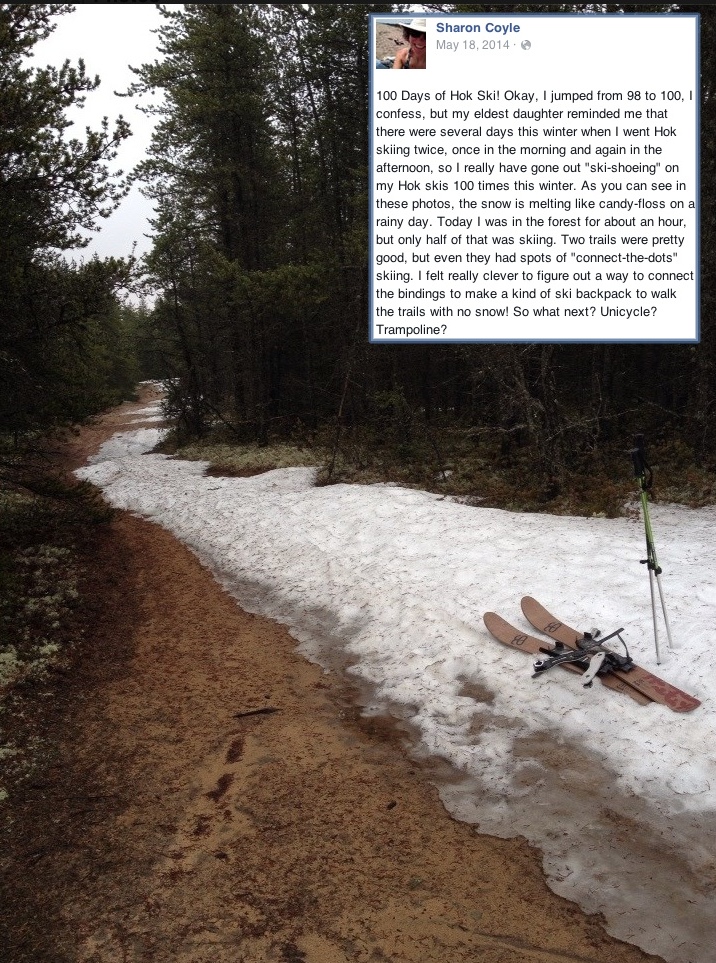 I was at 98 days of Hok ski for my first winter. But then my daughter said, "You know, mom, lots of days you went out skiing twice, why don't you count those outings too?" And I thought, hey, I am making up the rules for my challenge, so why not count them! So I reached 100 days of Hok ski outings in my first winter with my new skis! Life is good! Here is my post from the last day of the season: "100 Days of Hok Ski! Okay, I jumped from 98 to 100, I confess, but my eldest daughter reminded me that there were several days this winter when I went Hok skiing twice, once in the morning and again in the afternoon, so I really have gone out "ski-shoeing" on my Hok skis 100 times this winter. As you can see in these photos, the snow is melting like candy-floss on a rainy day. Today I was in the forest for about an hour, but only half of that was skiing. Two trails were pretty good, but even they had spots of "connect-the-dots" skiing. I felt really clever to figure out a way to connect the bindings to make a kind of ski backpack to walk the trails with no snow!"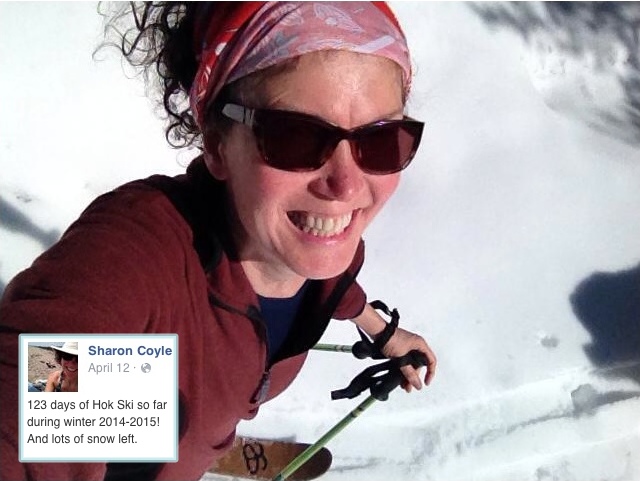 But that is not quite the end of the story. In my second year of Hok skiing, I decided to aim for 150 days. I downloaded a free app for my iphone (called endomondo, their slogan is "free your endorphins") and used it to keep a running tally of distance travelled and hours spent on my Hoks. I started at the beginning of November. Most days, I managed to get out skiing, maybe only for twenty minutes at minus thirty degrees Celsius, but usually for about a half-hour. That meant I skied between one to three kilometers most days. We had a pretty good winter, a bit less snow than the previous year, but because I was really getting out on my Hok skis virtually every day, I got to one hundred days of Hok ski by mid-March, I was feeling pretty cocky about this achievement until I read a blog post by one of my college students in which he described his snowshoe outings with his 76 year old grandfather who had already chalked up 115 snowshoe outings for the winter in his journal and was trying to beat his best-ever record of 165.
I kept strapping on the Hoks all through April and by the end of the month I was at 140 days. On May 8th I went for my last Hok ski. "148. Think that's the last; gettin' pretty icy. Or sandy." I was  happy to have reached, not quite 150 (okay, more than 150 if I counted the days I went twice!) days of Hok ski for the season! The other stats I gathered from my iphone app- distance covered on Hok Skis over the winter of 2014-2015: 260 km, and time spent Hok skiing: 85 hours.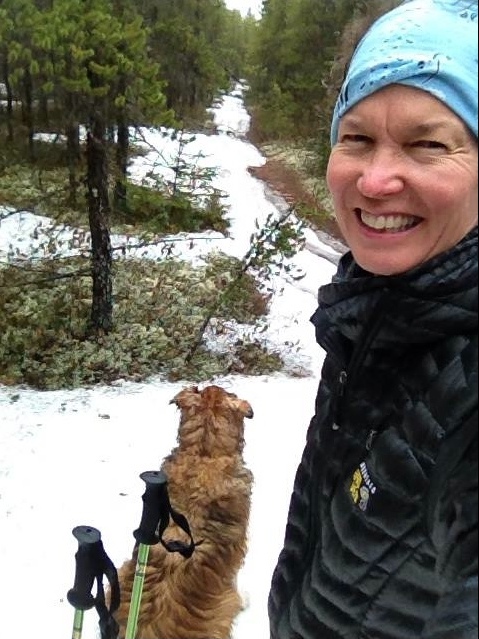 So where do I go from here? 175 days of Hok ski for season three?